Join Zumbini's
A Fun and Educational Dance Experience for You and Your Child
Calling all parents and children in Merseyside! Get ready for an exciting and unique bonding experience that combines the joy of dancing with the benefits of early childhood education. Zumbini's is coming to Volair clubs, making it the first and only place in Merseyside to offer this fantastic class.
Created by Zumba and BabyFirst, Zumbini is a program designed to promote cognitive, social, fine/gross motor skills, and emotional development for children ages 0-4, while creating unforgettable memories for you and your little one.
Location and Schedule
Zumbini's classes are conveniently held at three Volair clubs.  Choose the venue and time that works best for you.
Volair Halewood: Baileys Lane, Halewood, L26 0TY
Starts Saturday 22nd July | 1:15 pm – 2:00 pm
Volair Kirkby: Cherryfield Drive, Kirkby, L32 8SA
Starts Friday 21st July | 11:00 am – 11:45 pm
Volair Stockbridge: The Withens, Stockbridge, L28 1AB
Starts Monday 17th July | 1:00 pm – 1:45 pm
Booking Information
Pre-booking is required to secure your spot in the Zumbini's class.
To register, simply visit our online booking form by clicking the link below.
Register Here
Once you complete the form, Kerry, the qualified Zumbini tutor, will reach out to you to arrange your place and payment.
Course Details
Zumbini's classes are conducted over a 6-week period, ensuring a comprehensive learning experience for your child. The cost of the course is just £21, which breaks down to an affordable £3.50 per session.
If you have a second child between the ages of 0-4, they can join at a reduced price of £10.50 for the 6-week block booking. Additionally, older siblings over the age of 4 can attend for free but must participate with their younger sibling and parent.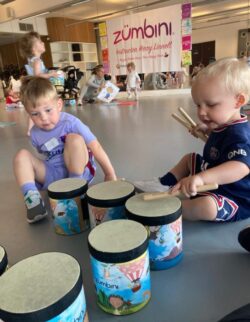 Discover the Magic of Zumbini
At Zumbini's, we believe in the power of music, movement, and the bond between parents and their children. Our classes provide a dynamic and interactive environment where you and your child can explore the world of rhythm and movement together. With specially curated Zumba songs and free dancing sessions, you'll experience a wide range of musical rhythms while having a blast.
Benefits of Zumbini's
Enrolling your child in Zumbini's offers a wealth of benefits that go beyond the fun and excitement of dancing. Here's how our classes promote your child's development:
Emotional Development: Through music, children can identify different emotions and experience intentional shifts in mood. Our class provides a variety of rhythms that can boost their energy levels or help them relax, allowing them to explore and understand their emotions through sound.
Fine + Gross Motor Skills Development: With vibrant movement, choreography, and instrument play, our classes activate both small and large muscle groups, supporting your child's physical development in a fun and engaging way.
Cognitive Development: Music and movement stimulate neural connections in young children's brains. In our classes, your child will use reasoning and logic to identify music patterns, play instruments, and enhance their language development through the repetition of sounds and syllables.
Social Skill Development: Zumbini's provides a high level of social interaction, allowing your child to connect with their peers through dynamic songs, dances, and instrument play. These classes offer age-appropriate social skills that foster friendship and cooperation.