3G Football Pitches
Whether you're looking for football coaching, a 5-a-side, 7-a-side or 11-a- side pitch, Volair will be able to help. There is also a variety of pitch surfaces to choose from, including artificial, 3G Astroturf and indoor.
3G Pitches
Pitches are located at Volair, within the Knowsley area with additional facilities to make your game even better such as changing rooms, floodlights, parking spaces, as well as the option to pay as you play.
How to Book!
Any football teams that are looking to play every week throughout the season are encouraged to block book their football pitch to ensure their pitch is reserved week in, week out.
To book call 0151 443 2200 or complete an online form to request a block booking.
Cost
3G Pitch 5-A-Side or 7-A-Side: £42
What's going on at Volair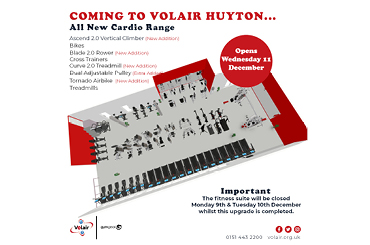 Coming to Volair Huyton…… As part of our ongoing commitment to maintain the highest standards at Volair we are pleased to announce that we are upgradi....