Swimming Lessons
At Volair we offer swimming lessons to accommodate all levels of ability from babies to adults our programme caters for all.  Our swim program adheres to the Swim England's Learn to Swim Teaching Plan, providing a structured, nationally recognised pathway to swimming proficiency.  In short it's the best way to teach children to swim.
Discovery Ducklings
The Discovery Duckling Awards are the start of the learn to swim experience for all children.  These awards are perfect for babies and toddlers and pre-school children who are new to swimming lessons.  Ideal for gaining water confident while staying close to an adult for support, these awards are followed by the existing Duckling Awards.  Discovery Ducklings are bookable at reception or by calling us.
Ducklings
Duckling Awards are the next step on from the Discovery Duckling Awards.  With Duckling Awards your child can work towards four different colorful Awards.  Each Award has its own certificate and badge.  Duckling 1 will see children start to move themselves in the water.  By Duckling 4 they will be jumping in, going underwater, floating and swimming five meters without support.  Duckling Awards are great at promoting increased independence and water confidence to help prepare for stage 1.
Swimming Lessons (Stage 1 -10)
Stages 1 – 7 are ideal for children aged 4 years and above. The Learn 2 Swim programme follows the definitive pathway from movement skills in stages 1 – 7, before leading on to later stages that support specific sports coaching.
Stages 8, 9 and 10 are targeted at swimmers who have achieved the basic fundamental movement skills, which allow them to be competent and confident in the water.
Register For Lessons
HomePortal
Our HomePortal allows you to track your child's progress through the Learn 2 Swim Programme.
HomePortal Login
Set Up Swimming Lesson Direct Debit
Adult Lessons
If you are a serious swimmer or looking to gain confidence in the water we have adult swimming lessons to suit your ability.  You can learn to swim, improve your stroke and become competent and confidence in the water.
Volair Huyton | Thursday 11:30am | 45mins | £7.70
Volair Kirkby | Tuesday 11:45am | 30mins | £7.70
Volair Stockbridge | | Wednesday 09:00am | 30mins | £7.70
What's going on at Volair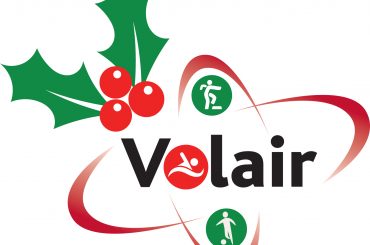 Join our 12 day membership for just £12.  Giving you access unlimited access to all 5 Volair clubs including access to 5 gyms, 4 swimming pools, over ....