Moel Famu Walk
Member Wellbeing Walk – Volair Halewood
We are excited to share the story of a recent team walk completed by members from Volair Halewood and Mind Moves Mentoring. The walk took place in Moel Famu and covered a challenging 18k route. The team was not only focused on completing the walk, but also on supporting each other's mental well-being and enjoying socialising in the great outdoors.
Mind Moves Mentoring is a non-profit organisation that offers mentoring and support for people struggling with mental health issues. We came together to organise the Moel Famu team walk, with the aim of promoting mental health and wellbeing while enjoying the stunning Welsh countryside.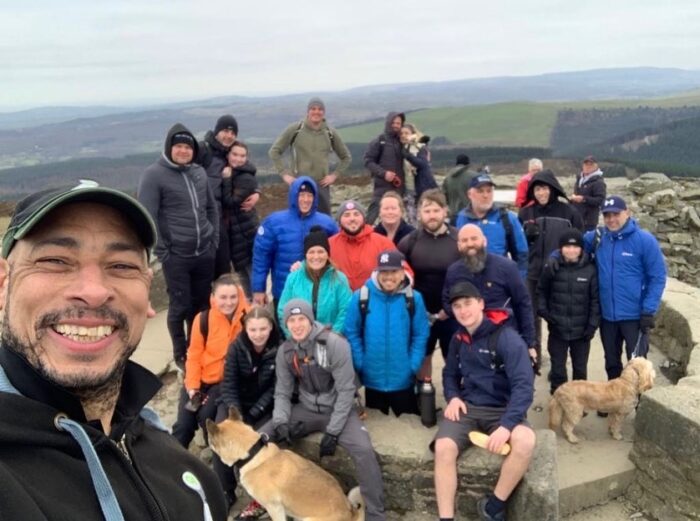 The team walk started early in the morning, with members from both organisations meeting up and getting ready for the challenge ahead. The weather was a bit chilly, but the sun was shining, and everyone was in high spirits. The group was made up of people from different backgrounds and ages, but they all shared a common goal of completing the walk and supporting each other's mental wellbeing.
As the group made their way up the mountain, they had plenty of opportunities to stop and admire the stunning views. They also took time to chat and get to know each other better, creating a sense of camaraderie that was vital for supporting everyone's mental wellbeing. The team walk provided an excellent opportunity for people to get away from their daily routines and enjoy some time in nature.
The route was challenging, with steep inclines and uneven terrain, but the team supported each other every step of the way. They encouraged each other to keep going.  The walk provided an opportunity for people to connect with others who were going through similar experiences, and this sense of community was incredibly beneficial for everyone's mental health.
As the group reached the summit, they all felt a sense of achievement and satisfaction. They had completed the 18k route.
The Moel Famu team walk was an incredible experience for everyone involved.
We hope that this event inspires others to take on similar challenges and support their own mental wellbeing and that of those around them.
If you are interested in future walks, please speak to a member of the team upon your next visit to Volair Halewood.